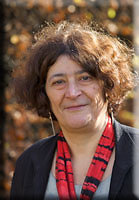 Heather Dale, Counselling, Psychotherapy and Clinical Supervision in Keighley and West Yorkshire
Welcome to my website.
Hopefully, reading the few pages here will give you some idea of who I am, ( Heather Dale, a psychotherapist/ counsellor working in the Bradford/ Bingley/ Keighley area); where I work (between Bingley and Keighley)and an initial idea of what I offer.
About me
Over a career in counselling/psychotherapy that spans over 30 years, working in or around Keighley, Bingley Leeds and Bradford, I have worked with a large number of issues, including relationship difficulties, work-based issues, anxiety, bulimia, compulsive eating, gender issues, and couples/ relationship counselling amongst others.
I am a local ( I live and work halfway between Keighley and Bingley) counsellor and psychotherapist accredited and registered by the British Association for Counselling and Psychotherapy (BACP) who are my professional body. Accreditation means that I have been recognised as having reached a certain level of training, qualification and experience as a counsellor and a psychotherapist.
To read more about BACP's ethical framework, please click on the link to external resources and follow that link. To read my own contract, which gives information about issues such as confidentiality, please follow that link.
How I work
Sometimes talking about current issues is enough to help move on from stuck places in your life, but sometimes it is helpful to go deeper into early issues or just work out ways of dealing more effectively with patterns of behaviour. You will always be in charge of what we talk about in your session and I will offer you the chance to talk in a confidential and non-judging environment
I also offer on-line work, though I prefer to meet face-to-face at least once, first.
As well as therapy, I also offer supervision, either face-to-face or on line. Face-to face work takes place in my home, which is between Bingley and Keighley. Therapy takes place in a quiet room used specifically for the purpose. Unfortunately, as the room is up a short flight of stairs, I cannot offer disabled access.
The links on the left give essential information about what I offer but do get in touch if you would like more information, or an informal chat.
My practice is within easy reach of areas such as Keighley, Silsden, Skipton, Saltaire, Shipley, Ilkley, Bradford and Leeds .
Thought for the month
I am often asked what is the difference between psychotherapy and counselling. The old joke is that asking three different practitioners thus question gives four different answers. Mine is that it depends on the training, and often, on whether the work is long-term or short-term work. Short term work (sometimes called counselling) tends to focus on current issues, such as issues in the work -place, or an immediate bereavement; long -term work (sometimes called psychotherapy) goes deeper and explores what has happened in life to bring people to this point. Both are useful and one does not preclude the other.