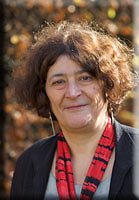 Heather Dale, Counselling, Psychotherapy and Clinical Supervision in Keighley and West Yorkshire
Welcome to my website.
If you are looking at this website, it is likely that you have hit a difficult and/or problematic time in your life. Sometimes talking to family or friends , however supportive, is just not enough. At those times, a trained professional, a counsellor or psychotherapist, is needed.
I offer you space and time, where you can talk in a neutral and non-judging environment, with the aim of helping you gain new perspectives and, if needed, make new decisions or changes Whether you want to explore long-term issues that may go back to childhood, or spend some time looking at a current problem, counselling can often help. What you bring is up to you, the client.
About me
I have been practising as a counsellor/psychotherapist for over 30 years. ( I use the words counsellor and psychotherapist interchangeably as I have training in both disciplines). Before moving to the Bradford area, in East Morton, between Keighley and Bingley, I worked in women's refuges and children's homes so my background has always about helping people resolve difficulties. I have also had a long history of teaching counselling and counselling skills, ranging from teaching assertiveness to five year olds, to teaching at post-graduate level.
Over the years I been a counsellor I have worked with a large number of issues, including relationship difficulties, work-based issues, anxiety, bulimia, compulsive eating, gender issues, and couples or relationship counselling amongst others. I now work mainly in Private Practice, running my practice from home. I am in easy reach of places such as Keighley, Bingley, Bradford Leeds and Skipton, both by public transport and by car.
I am (senior) accredited and registered by the British Association for Counselling and Psychotherapy (BACP) who are my professional body. Accreditation means that I have been recognised as having reached a certain level of training, qualification and experience as a counsellor and as a psychotherapist.
To read more about BACP's ethical framework, please click on the link to external resources and follow that link. To read my own contract, which gives information about issues such as confidentiality, please follow that link.
How I work
Sometimes talking in a neutral space is enough to help move on from stuck places in your life, but sometimes it is helpful to go deeper into early issues or just work out ways of dealing more effectively with patterns of behaviour. You will always be in charge of what we talk about in your session and I offer you the chance to talk in a confidential and non-judging environment.
My style of working has evolved over the years, but always with an emphasis on you leading the work we do together.
I offer on-line work, though I prefer to meet face-to-face at least once, first.
As well as therapy, I offer supervision, either face-to-face or on line. Face-to face work takes place in my home, which is between Bingley and Keighley. with public transport links to Leeds and Skipton. Therapy takes place in a quiet room used specifically for the purpose. Unfortunately, as the room is up a short flight of stairs, I cannot offer disabled access.
Currently, I see people Mondays , Tuesdays and Wednesdays, but not Thursdays or Fridays.
The links on the left give essential information about what I offer but do get in touch if you would like more information, or an informal chat.
My practice is within reach of areas such as Keighley, Silsden, Skipton, Saltaire, Shipley, Ilkley, Bradford and Leeds .
where I work
I work in an upstairs room in my home, in the village of East Morton, which is between Bingley and Keighley, accessible by train or bus from Leeds, Bradford, Skipton, and places in between. There is no waiting room, but if you arrive early, there is a shop within a five minute walk that serves hot drinks and snacks.